Psst. Want to help spread the news?
Tweet about us! It really helps
We are pleased to announce that on July 1st 2018 we will be enabling payments through Bitcoin's Lightning Network in addition to our current payment options.
The Lightning Network (or LN) offers cheaper, faster, more private payments and we're thrilled to be one of the first to offer our customers the option of using LN through our payment partner.
Now you can spin up your cryptocurrency powered Bitcoin VPS even faster!
How does it work
The lightning network is considered to be the next major upgrade to the Bitcoin network, speeding up transactions and making Bitcoin lighter and more efficient.
The lightning network technology connects users in a web of "payment channels", completely independent of the Bitcoin network. Payment channels allow multiple transactions to be aggregated into just a few on-chain transactions.
Payments are made "off-chain", which means users do not have to pay mining fees or wait for confirmations. Payments can be made nearly as quickly as packets can be sent.
LN nodes maintain transactions that have been made over the LN, but they do not need to be immediately settled on the Bitcoin network itself.
If you're interested in further, more in-depth technical details on the Lightning Network implementation, you can find them here.
Benefits
The Lightning Network is a collaborate effort by the Bitcoin community to help solve the scaling and capacity issue that Bitcoin is currently facing. An example of this problem was when transaction fees skyrocketed in December 2017, with people paying an average of 28 dollars on average per transaction.
The Lightning Network offers several benefits to Bitcoin:
An estimated thousand-fold increase in capacity on the Bitcoin Network by reducing load on the blockchain.
Tiny fees for off-chain transactions.
Enhanced privacy
Millisecond-level payments and transfers
Considerations
In it's current state, the Lightning Network still has a number of bugs and is still in its infancy and so as you'd expect, sometimes problems can occur.
However, we're pretty confident. Our payment processor has performed a long-term test covering over 600 successful transactions without issues. But in any case, rest assured we guarantee to pay out the funds for every order that is confirmed as "paid" by our payment processor
We understand that this isn't for everyone, so LN is optional at this stage.
If you're interested in using Lightning Network payments, and want to use it, there will be a new slider to enable Lightning Network when topping up your account with Bitcoin.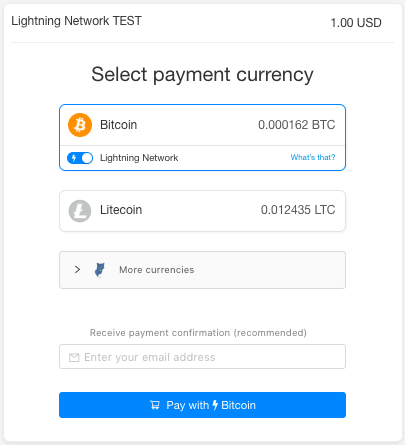 Lightning Transactions are limited to 0.042 BTC as a security precaution.
Want more?
We're really excited about the future of Cryptocurrency and are excited to introduce this new powerful technology to our users. We're even more excited to be a part of advancing and supporting the bitcoin network.
Check out some of our other posts for ideas and projects for your Bitcoin VPS like how to up a private, secure Bitcoin VPN or check back for our upcoming article on How to Set Up a Masternode with Cryptocurrency.
Thanks to our loyal customers for their continuing support. As always, if you have any questions don't hesitate to reach out to our support team.