Much ado has been made about Algo VPN, a collection of scripts that lets users quickly deploy a personal VPN without technical knowledge. Without many pre-requisites at all, users can deploy a WireGuard or IKEv2/IPSEC-based private network on their rented VPS at no extra cost.
It all sounds very good on the surface, but developer TrailofBits also freely admits that its solution is still "under active development". As such, it hasn't been audited and could ship with various bugs.
In this Algo VPN review, we're going to be taking a deeper look at the solution and how it compares to one-click installs of OpenVPN and WireGuard from BitLaunch.
Ease of Use
The defining feature of AlgoVPN the sheer ease in which users can set up a VPN on a variety of different OSes and configurations. After installing and unzipping the files, it only takes a few commands to install pre-requisites, define a user list, and run the VPN. You can see the full process in our tutorial here.
Handily, Algo has preset configurations for a number of popular cloud providers, including DigitalOcean, Vultr, Amazon, Google, and CloudStack. Users just need to enter their API key during configuration.
Client setup is also simple. iOS and macOS' can connect with no additional configuration, while Android and Windows devices can scan a QR code to import a configuration file.
Generally, the Algo VPN setup is quite painless, though it's still not as simple as one-click VPN setup options from BitLaunch, Vultr, and other providers. There's also more room to error due to users having to install pre-requisites manually.
That said, the advantage of using Algo is that you have more control and visibility over the setup process, with the ability to choose between a few configuration options during setup.
Security
Algo VPN uses the IKEv2 protocol and IP-sec for its VPN solution on iOS, macOS, and Linux as well  as WireGuard for the above, Windows 10, and Android. WireGuard, a relatively new protocol that boasts a low code profile, fast speeds, and high security, has now been independently audited and has seen a version 1.0 release.
Algo additionally implements a HTTP proxy and local DNS resolver to block ads, which is a nice bonus, and TrailofBits promises that servers are completely separated from them as a developer.
Though there were previously allegations of interference and backdoors in IPSec, no substantial evidence of this has been found since they surfaced in 2010. Either way, Algo does now offer the ability to use WireGuard on all devices. In our testing, we did not find any IP or DNS leaks using Algo with WireGuard.
Speed
While the above is all well and good, it wouldn't be a proper Algo VPN review unless we evaluated speeds. Many creating a VPN via this method will be wondering if there's any slow down next to a traditional WireGuard setup and whether it's faster than OpenVPN.
We tested with a standard 100 mbit up/down connection using a wired ethernet connection and a Windows 10 client PC. All were hosted on BitLaunch's Amsterdam servers with the client located in Sweden for a fair test. All used the same Kansas speedtest.net server to really stress the VPN and represent the best results of three runs.
Interestingly, our testing did see a significant drop-off in speeds using an AlgoVPN configured server vs BitLaunch's one-click WireGuard and OpenVPN apps.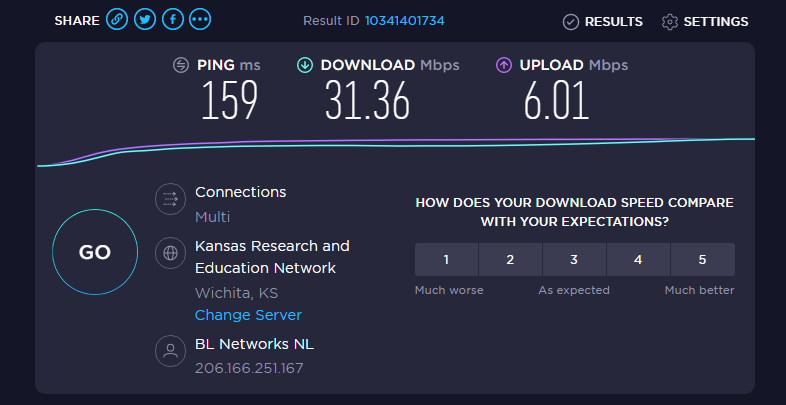 The Algo VPN managed 31.36 Mbps, testing with a Wichita server in Kansas.
One-click WireGuard install on BitLaunch managed a much more reasonable 62.48 Mbps from the same server.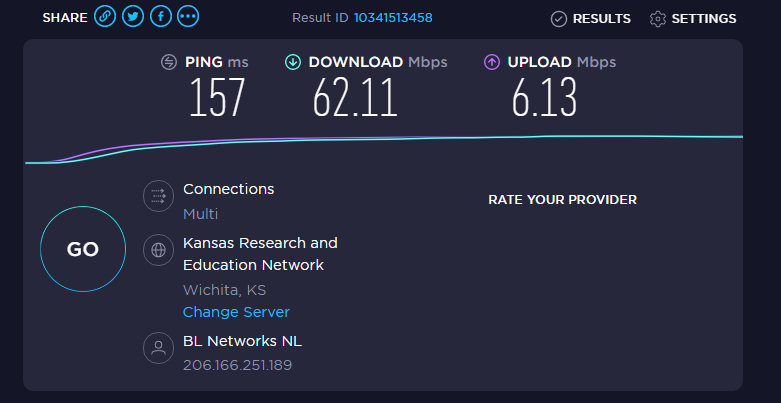 Finally, OpenVPN was only marginally slower at 62.11 Mbps.
At almost half the speed of the other two solutions, Algo was clearly slower, but still fast enough for general browsing tasks and video watching. It's possible that Algo could run better on servers it has in-built support for and from clients that are using IKEv2/IPsec.
Verdict
Algo VPN is simpler to set up than other manual VPN solutions, but much of that is mitigated by the rise of one-click apps that require no or little input. Slower speeds made Algo VPN a harder sell in this case, but those who want more control and visibility over the setup process will find value here.
Need an anonymous server to host Algo VPN? Sign up for a Bitcoin VPS here.