Five years ago your choice between sneaker bot would have been very limited – with just a few major players able to get consistent results. Since then, however, the number of people looking to try their luck copping sneakers has grown significantly. This has held true especially during the pandemic, with many spending more time at home both botting and creating bots for the growing market.
Sorting through the hundreds of bots and working out which are effective has become a time-consuming and perilous path. To complicate things, there are many different countries, requirements, and site compatibilities to take into consideration. Bots typically don't even stay consistent over time, with one bots doing better on some releases and some on others.
As a result, rather than creating a definitive top ten list, we've gathered some of the best sneaker bots across different categories as it stands right now. We're looking at factors such as usability and features, but most importantly effectiveness and update consistency.
Let's start with one of the most sought-after categories: AIO bots.
Best AIO sneaker bots
Unless you have unlimited funds, a sneaker bot that does everything in an enticing prospect. All-in-one (AIO) bots are typically not as proficient as ones targeting a specific niche, but some can get pretty close. What they do offer is flexibility at a reasonable price point.
Wrath AIO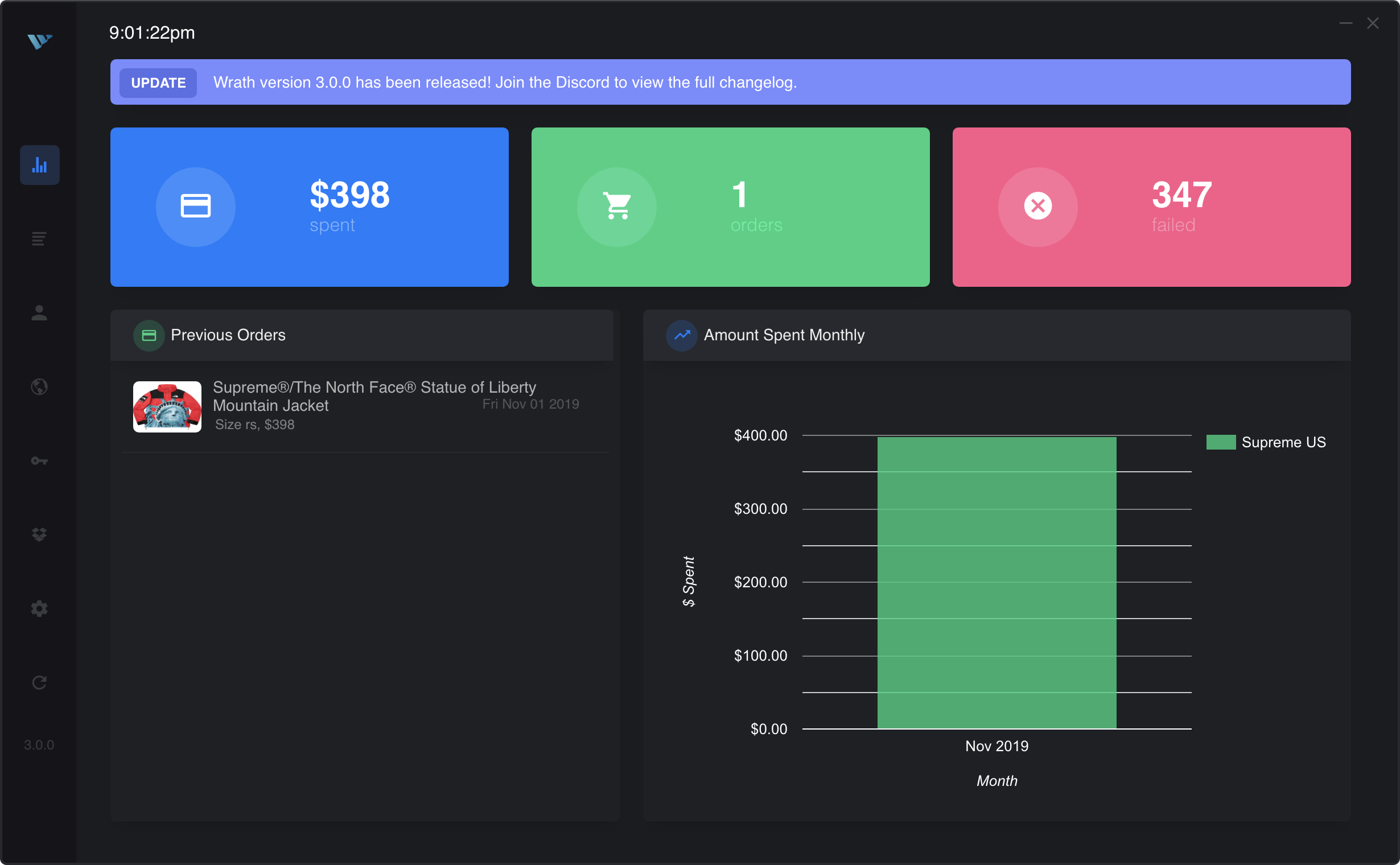 Wrath has been around since 2018, and though it's had some ups and down it's now easily the most well-regarded AIO bot. These days its updates for every module are fast and hit the mark almost every time, with support for Shopify, Supreme, YeezySupply, and US footsites.
Importantly, Wrath doesn't just support these sites but does its job well. It might not be in the top 1% for every provider, but for many of them it is. On top of this, it has simple interface, multi-task support, various fast checkout modes, useful analytics, and a captcha harvester.
In fact, its biggest downside might be its price and availability. Wrath AIO is out of stock on its official website at its base renewal price of $350. It's currently selling for around $4000 for a lifetime license and $3000 for a renewal license, on botsupply, however, if you can afford to cough up the cash.
Kodai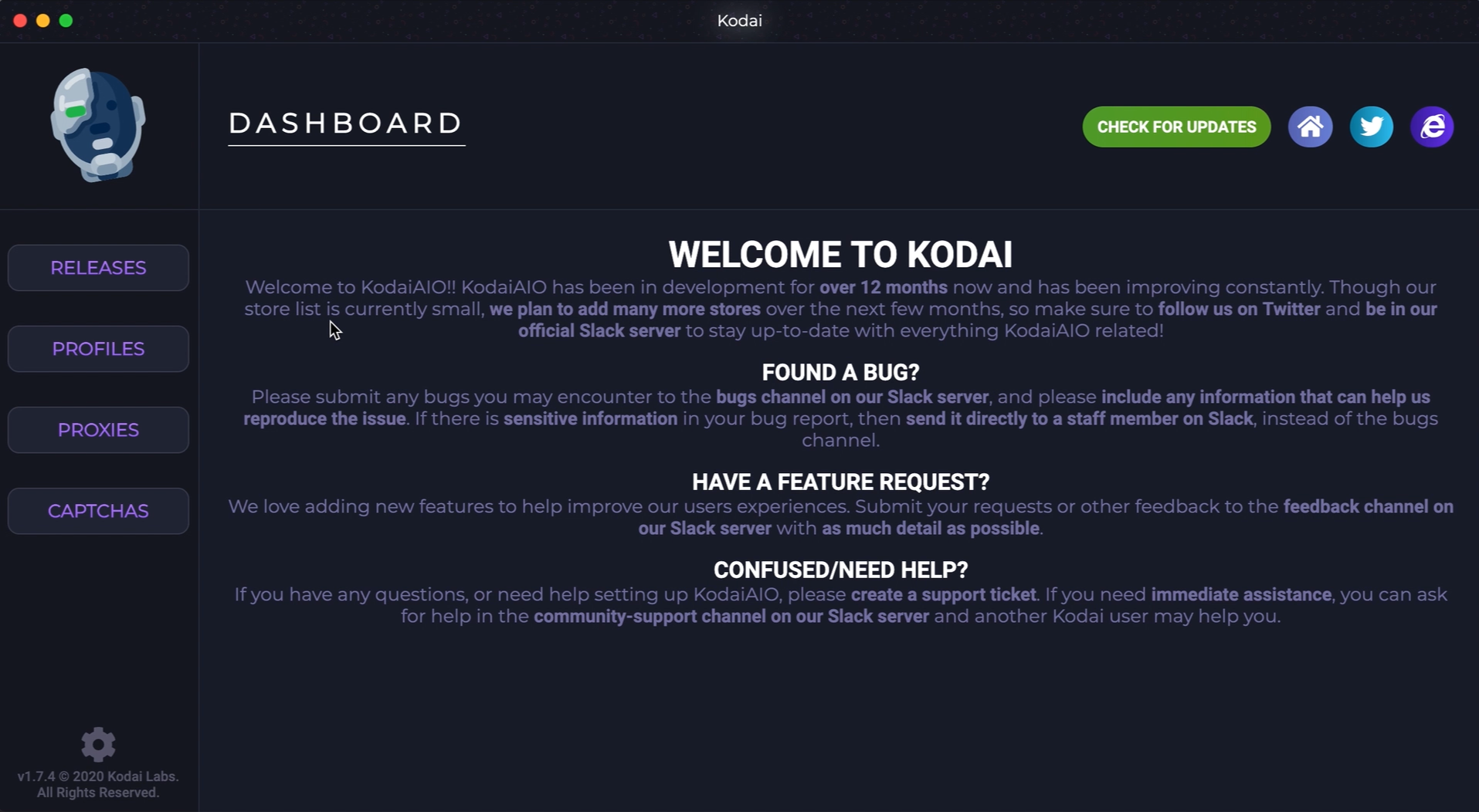 Kodai, which markets itself as "the untameable cooking machine", does indeed cook pretty consistently. Kodai manages to cop on most drops, with a small team of dedicated developers pushing to bypass anti-bot measures and provide timely updates.
Though Kodai initially struggled with some issues regarding its Addidas and foot sites extensions, it has seen significant improvement. These days, it's proficient across a range of extensions, including Shopify, Supreme, Addidas, YeezySupply, Finishline, and JDSports. It works particularly well on footsites.
Importantly for some users, Kodai has a wide range of compatibility, working on almost all Mac and Windows machines. It also has an incredibly simple, easy-to-use interface, which makes the whole process very frictionless.
The main issue with Kodai is, again, price. At its retail price Kodai is $175/2 months, then $59.99 every month thereafter. Ironically, though, getting hold of Kodai can be harder than getting hold of the sneakers themselves, as it's almost constantly sold out.
Balko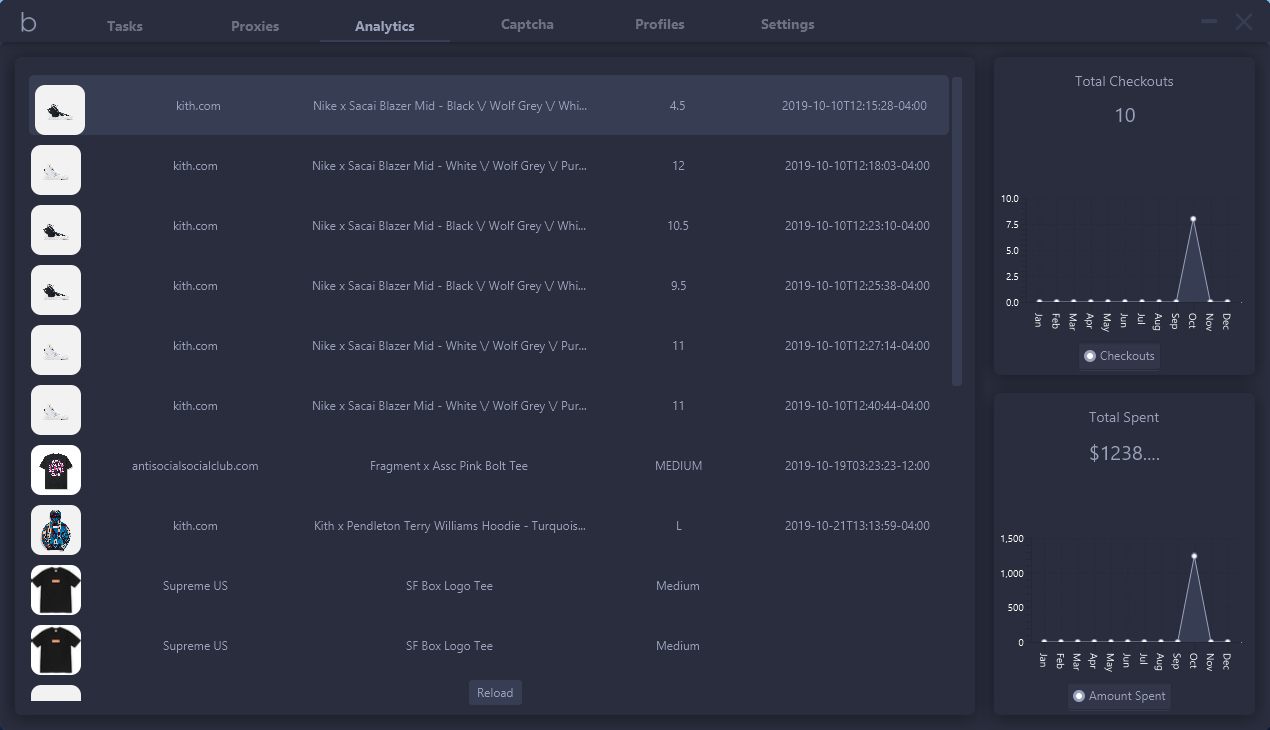 Balko is a good bot that was very close to making it onto the main list. Though it isn't as hyped as some of its competitors, it's excellent on Shopify – some say even better than MEK. It can also go toe to toe with Wrath on some sites on a good day, though Wrath is still the clear winner overall.
If Shopify is one of your main targets, then, Balko could be an excellent choice, performing extremely while still maintaining good performance on hyped releases on other sites.
At $575 for a renewal license (renewal is $40-60 for six months), it's certainly a  lot cheaper than Wrath, meaning you're getting pretty great value for money.
MekAIO
Mek AIO is a relatively new bot with an extremely well-regarded development team who are constantly working to make it better. It has been very successful recently at YeezySupply and is additionally great with Shopify. It's proficient with Footsites and getting better, but not quite at the level of other top bots.
It has a beautiful and intuitive interface which makes it a joy to use, with several features build-in to aid efficiency. As with most of the bots on this list, MEK AIO is currently sold out at its official $300 price tag, though it can be had for around $1000-1200 on third-party sites.
Best EU sneaker bots
The sneaker game is strong in the US, but it's also booming in Europe. Not every bot focuses on European versions of sites, though, which can have different anti-bot measures and different checkout processes.
Thankfully, there are still plenty of bots that do, and a few that do so particularly well:  
Ganesh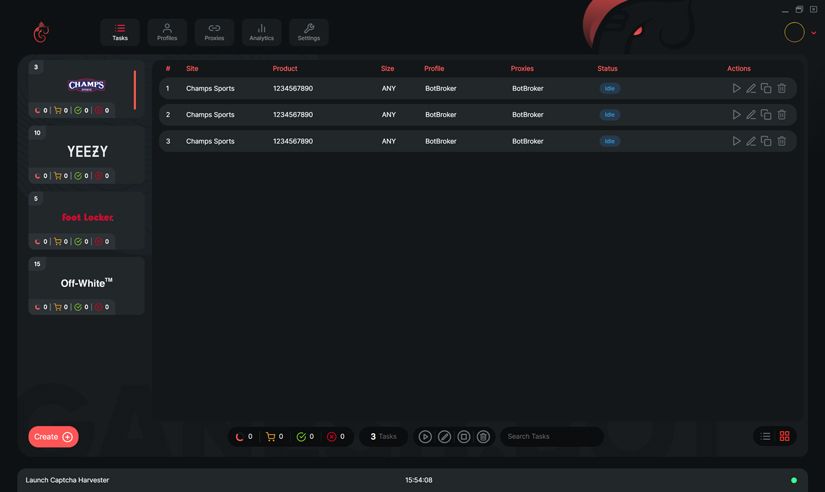 Ganesh describes itself as the "gold standard in sneaker botting", and for EU users, that's certainly true. Ganesh has had an excellent year, proving itself to have very high win rates for those in mainland Europe. As of December 2020, it had 650,000 checkouts, despite a relatively small userbase at the time.
As an AIO bot, Ganesh supports just about any store you'd want. Anything from Foot Locker to Yeezy, Mesh/JD Sports, Finish Line, Solebox, Zalando, footsites, Off-White, and many more.
Though it has an intuitive yet advanced interface, Ganesh can also be controlled through a barebones CLI if the user prefers. It also has 24/7 support and strong documentation, making it relatively easy to get into.
Typically Ganesh costs £100 for three months. As with most good bots these days, though, it's sold out. Instead, you'll have to buy it on an aftermarket site for ~$700 for a renewal license and $1600 for a lifetime one.  
Flare AIO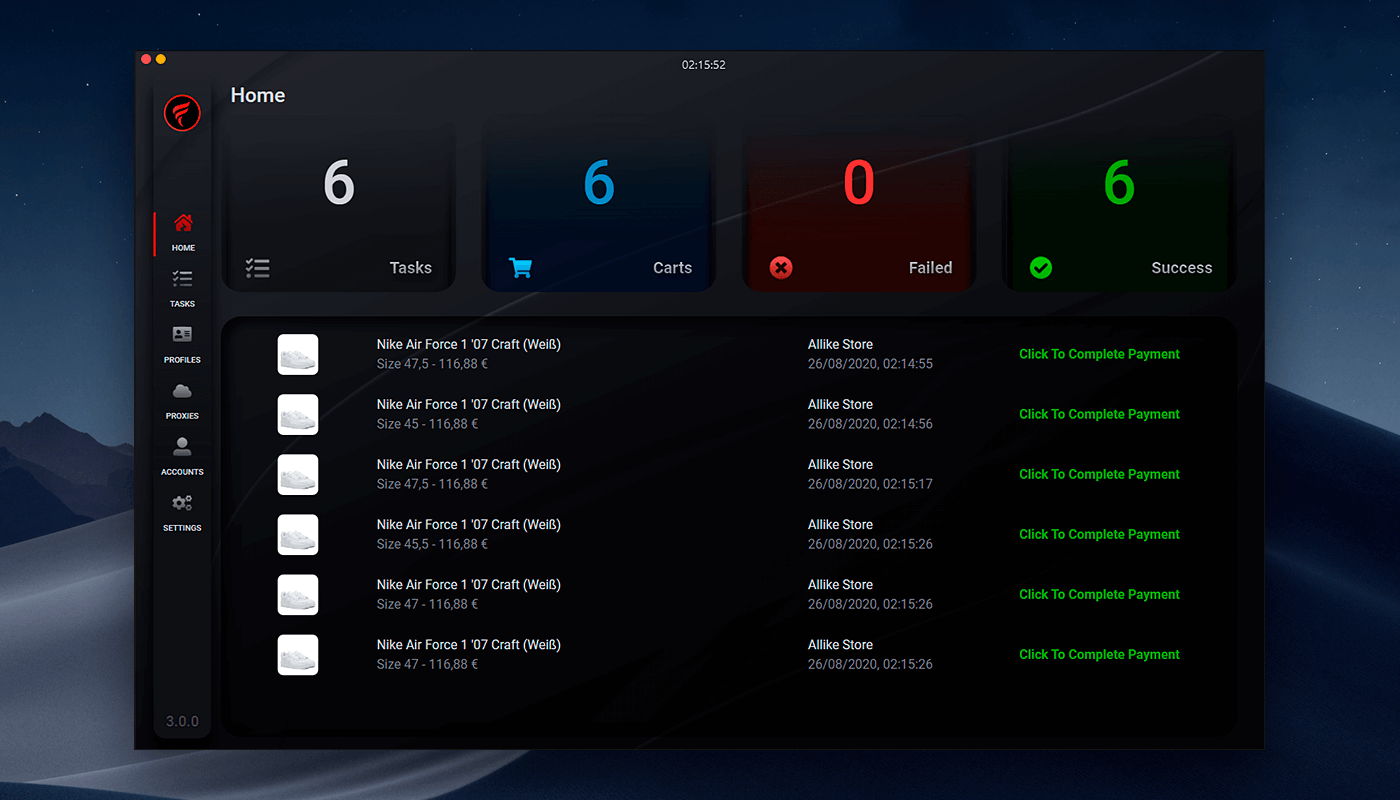 Flare is up there with Ganesh as one of the best EU sneakerbots on the market. It supports over 30 sites with fast speeds, the ability to create hundreds of tasks, and an integrated account generator. It's also one of the few bots to support mobile, with a dedicated iOS app alongside its Windows client.
Like Ganesh, Flare allows you to switch between GUI and CLI depending on your preference and has a nice simple interface. It supports over 30 sites, including Zalando, JD sports, Asos, Airness, Snipes, Alike, Shoebox, Footasylum, Consortium, Solebox, SneakAvenue, and more.
Though Flare isn't considered as good as Ganesh, it does do well on Snipes especially, which is great for those in central Europe. While it used to be plagued with errors, the developers have shown they're willing to listen and commit the time to fix them. Importantly, it comes in at significantly less than Ganesh, at 300 euros with a 40 euro/month renewal price.
Sole AIO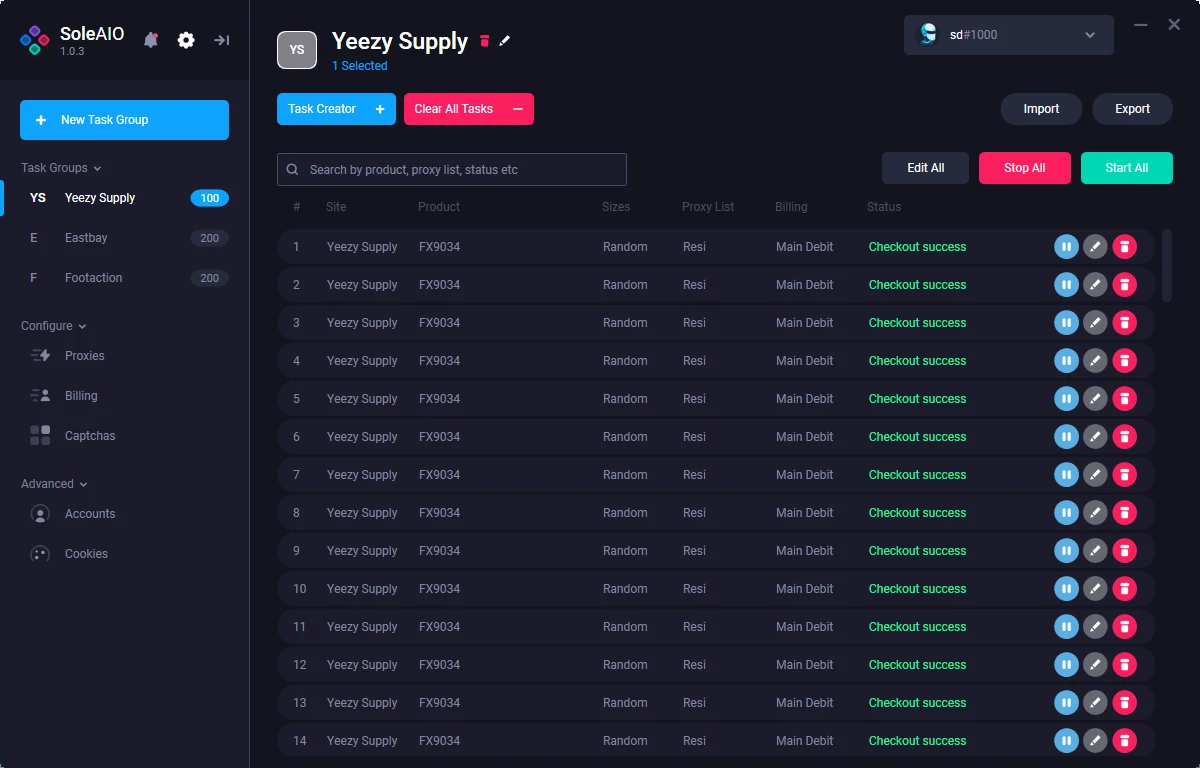 Sole AIO doesn't always perform well on footsites, but if that's not what you're targeting it could be a great pick. It houses support for Adidas, Shopify, YeezySupply, Supreme and more, with automatic checkout for most European regions.
According to user reports, it does well on Shopify, Yeezy Supply, and Adidas splash releases. It also has a very clear, intuitive interface, the ability to run multiple tasks with ease, automatic captcha assistance, and the ability to bypass queues on select sites.
Sole comes in at an initial cost of $400 with $160 renewal every 6 months, making it one of the cheaper offerings. Getting hold of Sole is another matter, however, with the official website sold out and many marketplaces only offering rentals.
Best Supreme sneaker bots
While various bots can cook footsites, Yeezy, and Shopify, only a few can really perform with Supreme. If you're looking to grab one of the most sought-after brands on the market, these are the bots you should be looking at:
MEKpreme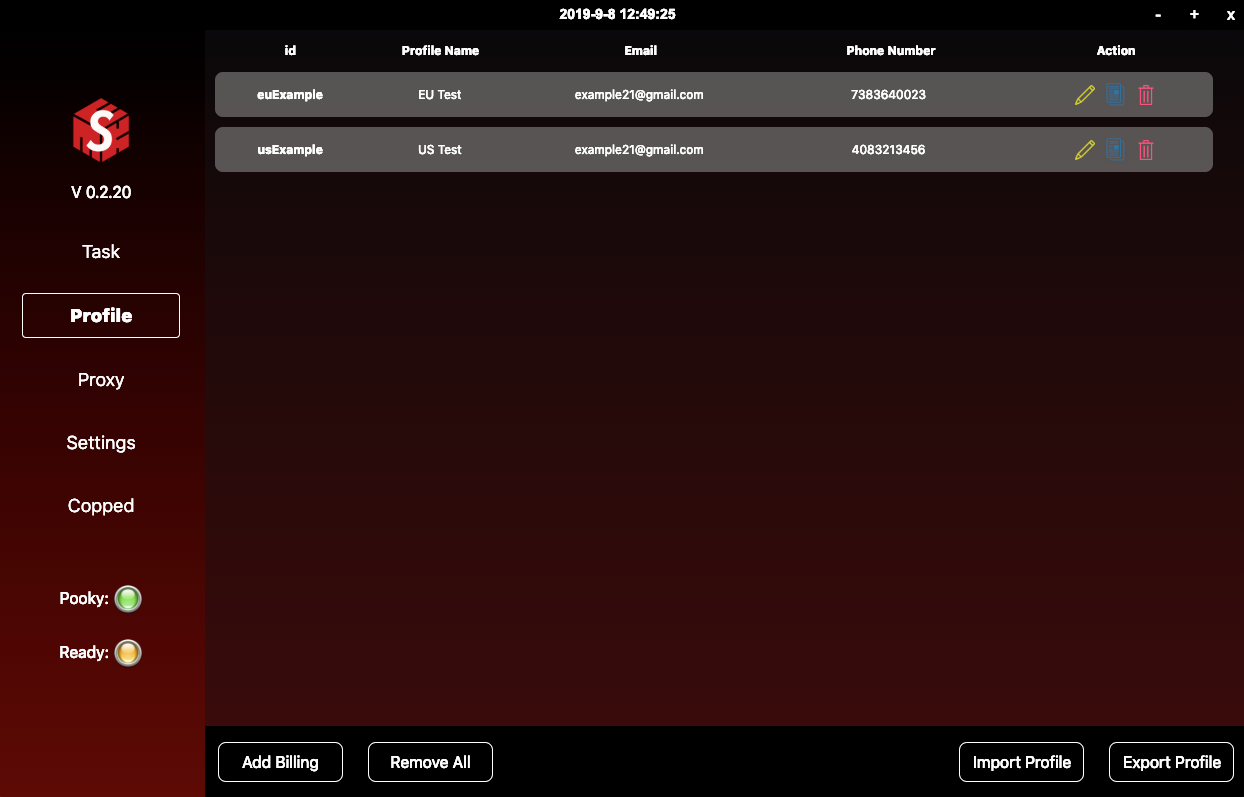 MEKpreme is simply your best bet for Supreme drops. It performs better and more consistently than any other Supreme or AIO bot on the market right now. It's easy to use, gets consistent updates, and comes with good support.
At its retail price of $168 with a renewal fee of $120/6 months, MEKpreme is still really hard to beat. However, like most bots these days it's sold out, so you'll likely be looking at slower to $250 for a renewal license.
Velox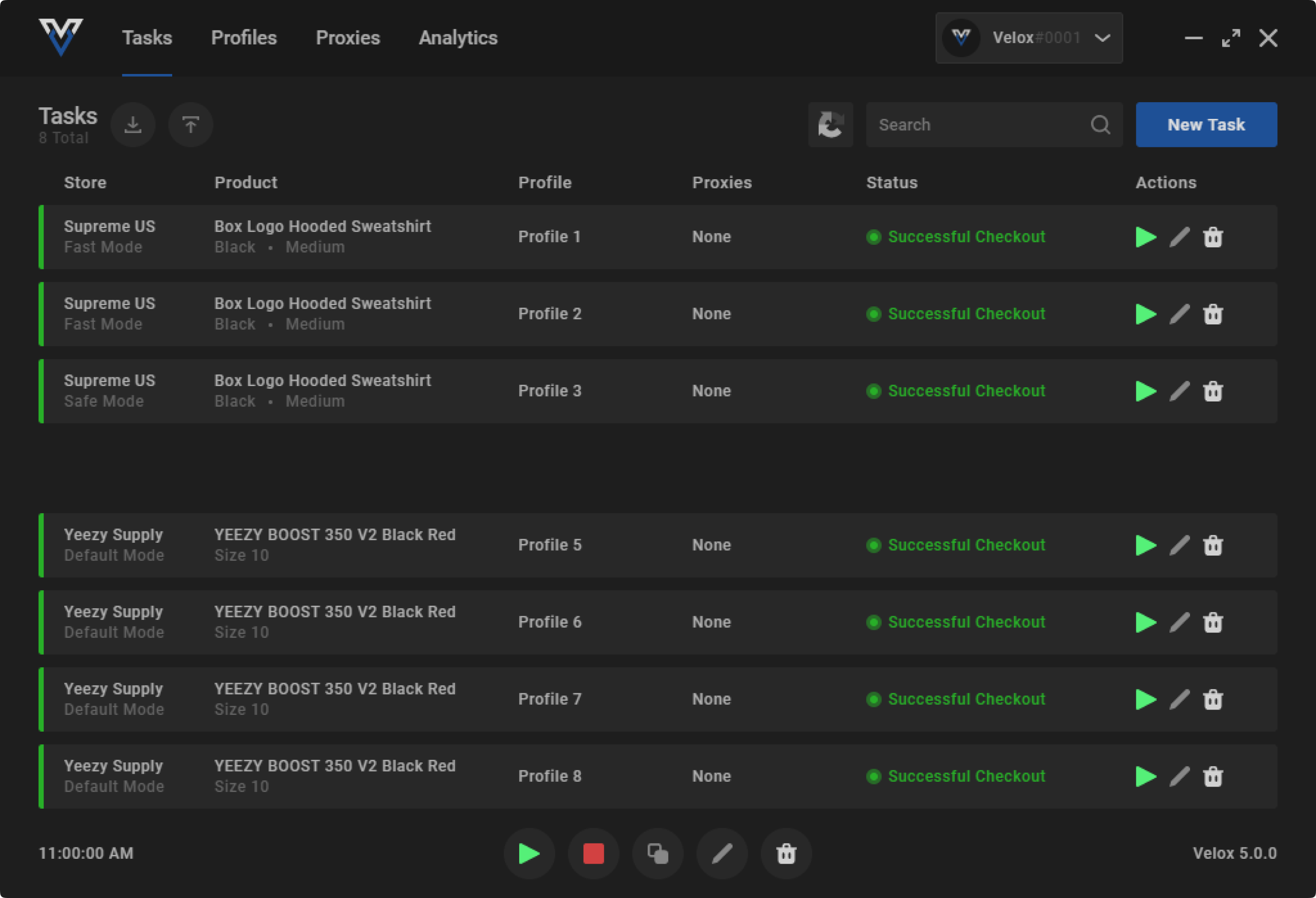 If you're looking for more than just Supreme, Velox is an excellent choice. Despite focusing on Yeezy as well as Supreme, it performs very well and has a more intuitive interface than MEK to boot.
As well as the typical profiles and proxy tools, Velox integrates analytics and a "hybrid" mode to make tasks seem more human. It's updated very frequently, which has allowed it to maintain consistency despite several updates to anti-bot measures by retailers.
Velox is relatively inexpensive at its retail price of $170, though of course, high demand has driven it out of stock. As a result, you're looking at around $300 for a renewal license.
Tohru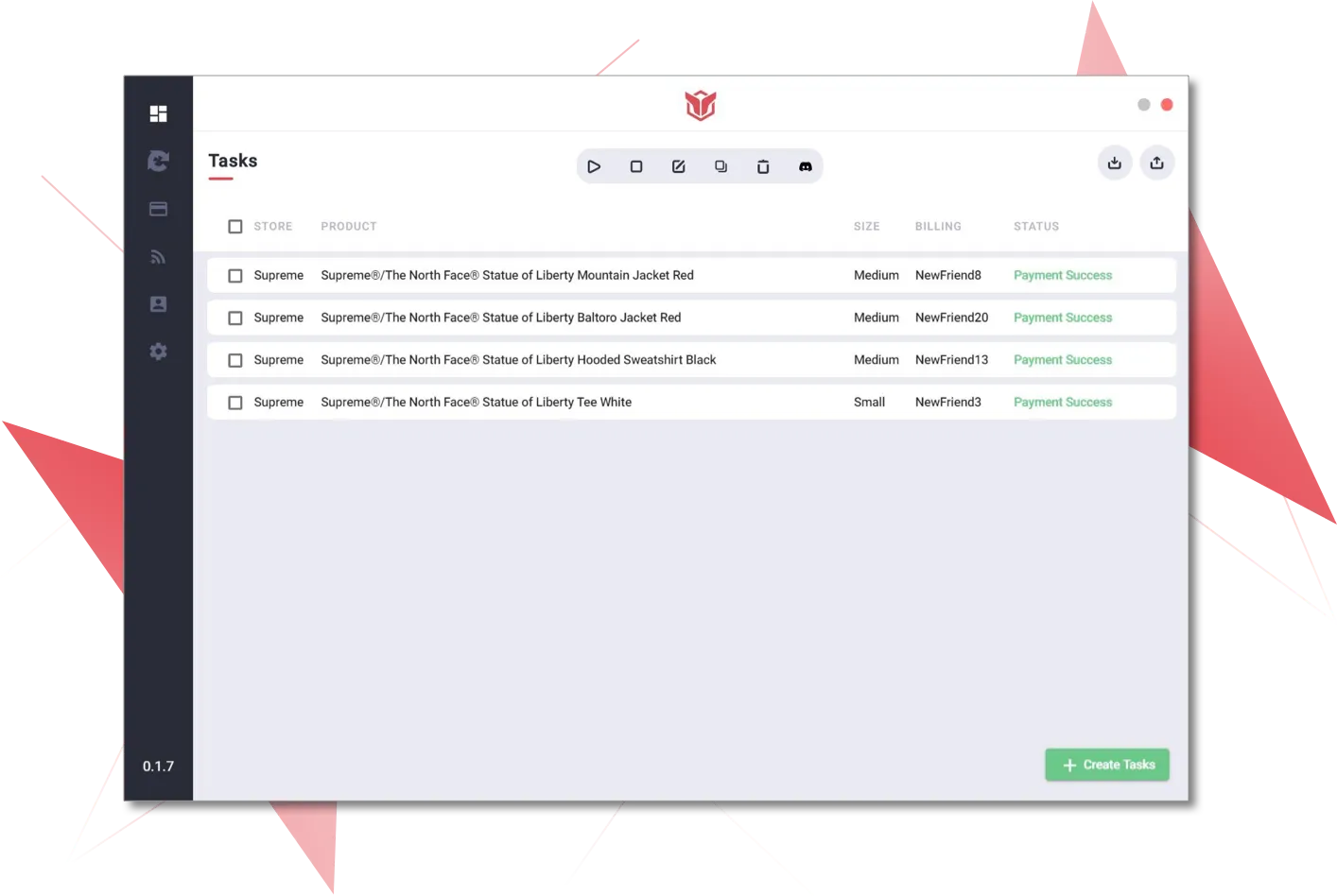 Tohru AIO is a newer bot that has been getting some rave reviews from its users - particularly for footsites but also reportedly moderate success with Supreme. It's very fast, very easy to use, and integrates several captcha solvers.
Of course, as a newer bot, Tohru doesn't have the same long track record as others, but it has been hitting consistently for the past year and getting regular updates. One highlight is its mass task creation and editing tool, which makes the whole process quick and streamlined.
Tohru also has a dedicated support team that is available 24/7 on Discord to aid users, as well as provide links to various guides and tutorials. While its not up there in the highest tier of bots, Tohru is doing great right now and has a promising future ahead of it.
Naturally, this means that its price has shot up – from around $200 retail with a renewal cost of $50/month to $400 renewal. Compared to some of the most expensive bots on the market, though that's still pocket change.
Honorable mentions
We've tried to keep this list to bots that are performing at the top of their game, but there are many bots that are either right on their heels or don't fit into the categories above. Here are just a few of them:
Cybersole AIO

Cybersole AIO has been around for quite a while and has managed to score very consistent updates and strong features during its lifetime. While it isn't quite the best in class in any particular category, and isn't cooking quite as well as its glory days, it's still a strong option with a stunning, intuitive interface. Just bear in mind that its 5.0 version introduced a relatively high renewal price of £50 per month, so that ~$700 bot broker price isn't quite as generous as it might seem.
Dashe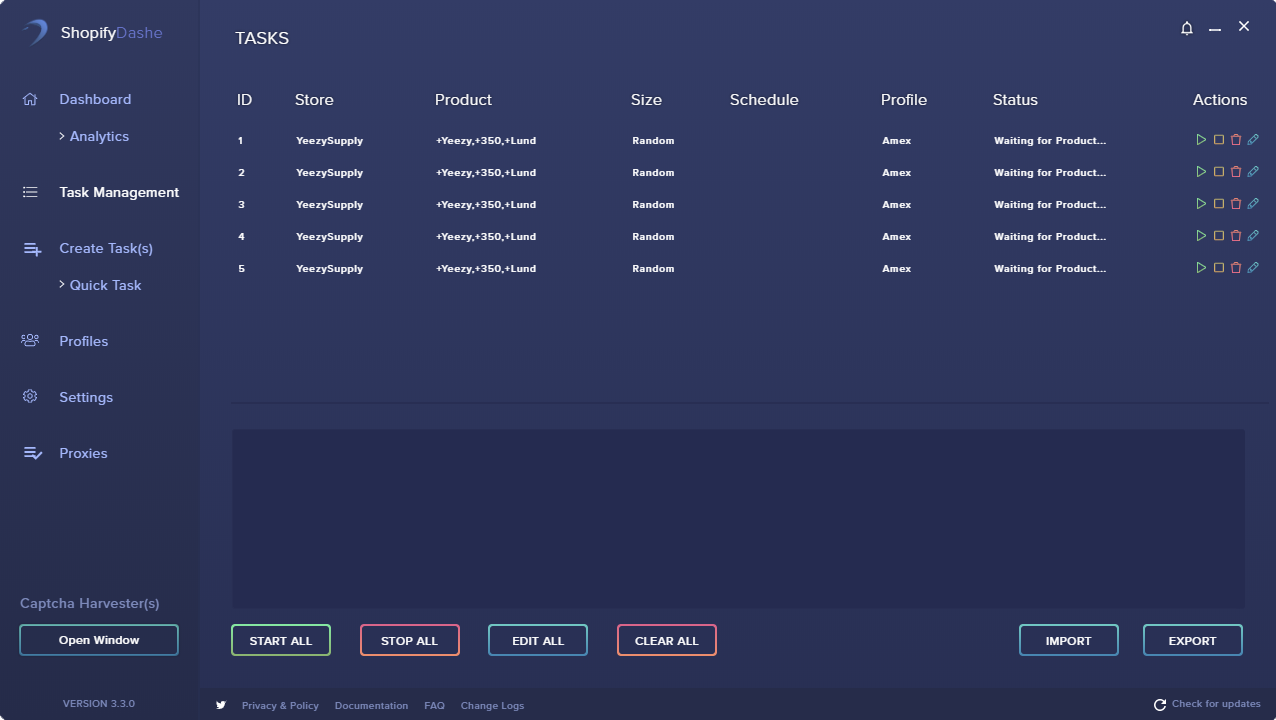 Dashe is flying off the shelves right now for one main reason: price. You can get Dashe for as little as $166 for a lifetime license or $23 renewal. Dashe was the OG of Shopify bots, but also support Supreme, Addidas, Yeezy supply, and more.  Its supports for all regions is another positive, but there are some better Shopify bots out there these days, like MEK and Balko.
Running your sneaker bot on a VPS
As you may have noticed after looking through the various bot options, the majority are Windows only, with some also on macOS. By renting a Windows RDP VPS server, macOS or Linux users can both open the door to hundreds more bots and ensure they have the highest speeds and lowest latency to increase their chances.
Sign up to BitLaunch for fast KVM SSD servers with hourly billing and a privacy-respecting payment system.
Already a big fan of BitLaunch? Join our affiliate program and earn at least 20% for each referral.