Affiliate marketing has emerged as an effective, profitable way to earn money online. Of course, there's no such thing as easy money. If you think you're just going to throw up a Wordpress website, a few pages of content, and then generate big bucks, you're going to be in for a rude awakening.
Still, if you cultivate your own skills and put in consistent effort, there's a great chance that you could build up a successful affiliate marketing website. We're going to take a look at some of the most effective affiliate marketing websites, but first, let's go over what affiliate marketing is and how it works.
So What is Affiliate Marketing Anyways?
With affiliate marketing you set up a website to promote products. This might mean camping gear, books, video games, or anything else you can sell online. Passion can make a big difference with affiliate marketing, so many people focus on their hobbies and interests.
As you promote products, you can post up affiliate marketing links. When someone visits your website, consumes your content, then clicks on the link before finally making a purchase, you'll earn a commission. While this may sound like a long process, it's one of the most effective ways to generate income online.
In order to promote products, you're going to have to produce or purchase a lot content, such as blog posts, reviews, and explainer videos. Sound like a lot of work?In truth, it is. Affiliate marketing is very competitive, so you're going to have to outwork the competition.
However, while affiliate marketing is a lot of work, there are also a lot of benefits. Let's look at those.
Why You Should Consider Affiliate Marketing
Affiliate marketing is one of the best ways to earn money online without having to invest a lot up front. With affiliate marketing, you're acting as an advertiser and often a publisher. You're producing content and publicity, but you don't have to buy stock of the products you're buying.
It's not just about low costs either. Could you imagine earning money while you sleep? In fact, this is part of the reason many people start affiliate marketing. With an affiliate marketing website, you can earn money around the clock.
Let's take a look at one of the better affiliate marketing websites on the web and use it as a case study. After that, we'll list out some of the other best sites.

An Affiliate Marketing Case Study:
BookRiot.com
According to Google Adwords, there are somewhere between 10,000 to 100,000 searches per month for "best fantasy books."  There's somewhere between 1-10K for "top fantasy books" and "fantasy books" as well. And you know what website you're likely to find on the first page of Google if you type in 'Best fantasy books"?
Bookriot.com. You'll also find their website when searching for books in other genres, such as thrillers and romance novels. And when you click on their website, you'll find a variety of well-put together listicles, reviews, and other pieces of content. Most of this content is filled with affiliate marketing links.
So let's say you're looking for that next great novel. You head to Google, type in "best fantasy books", and see Book Riot's article "25 OF THE TOP FANTASY BOOKS ON GOODREADS" at the top of Google. You click on the link, as people often do, and read the article. And along the way, one of their listed articles catches your eye.
Conveniently, they provide a link to Amazon where you can then purchase the book. And should you do so, Bookriot will get a cut of the sales. That's how affiliate marketing works.
The Wire Cutter
Founded in 2011 by Brian Lam, the Wirecutter first focused on electronics and especially people looking to cut the cord. However, Wirecutter has since merged with the Sweethome, a sister site that focused on other home products.
The Wirecutter focuses primarily on reviews. Looking for a duffle bag? Check out their "best of" duffle bag list. Need a new TV? The Wirecutter has you covered with best TV lists and how-to guides.

Unlike some affiliate marketing websites, the Wirecutter doesn't rely only on Amazon. Many of their affiliate links link directly to other companies. The Wirecutter is also well-regarded for testing and offering genuine product reviews.
Outdoor Gear Lab
If you've ever been camping or hiking, then you know your experience often comes down to your gear. If you're stuck in the woods with a low quality tent or cheap backpack, you're likely to have a miserable time. That's why many outdoor enthusiasts turn to Outdoor Gear Lab.
Like the Wirecutter, OGL uses an intensive testing process to ensure that every product is thoroughly put to the test. After all, OGL doesn't want to leave its readers stranded. Reviews are both genuine and detailed, making it easy for readers to find exactly what they need.

Let's take a look at OGL's backpacking tent guide: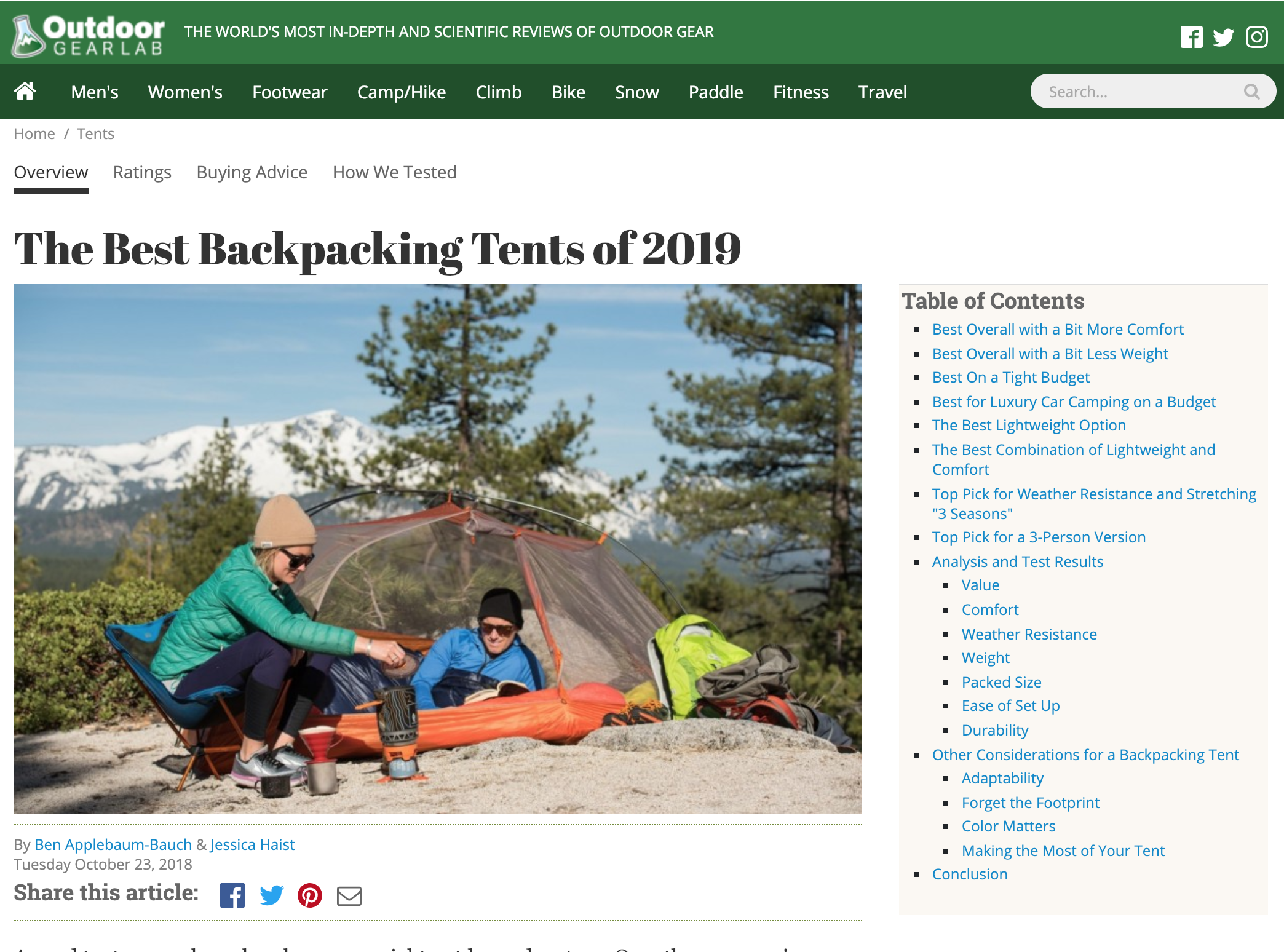 The first thing you'll notice is the long encyclopedia style table of contents on the right. As you can see, the guide contains a huge list of topics. As you scroll through the topics, you'll come across charts and other content that help users both discover and compare backpacking tents. Interested in purchasing? Simply click on one of the many affiliate links.
THISISWHYIMBROKE.COM
Thisiswhyimbroke.com started out as a bit of a joke, but no one's laughing at them now. With Amazon dominating much of the online space, it's important for affiliate marketers to ensure that they stand out. That's why this site went with a humorous name and also why its creators decided to focus on quirky, unique gifts.

While many of the affiliate links redirect users to Amazon, the site adds value by curating its content. Most of the items are interesting, affordable, and make for great gifts. Want to catch someone's attention on their birthday? How about a beer slushie machine?
Take Away: Focus On High Quality Content and Start By Going Niche

The World Wide Web is a crowded place. Three of the four affiliate marketing websites we went over are niche sites, focusing on outdoor gear, books, and quirky gifts. Even the Wire Cutter, which is now pretty broad, first built momentum by focusing on electronics.
When you go niche, it's easier to build up quality content and thus stand out in the market. You'll establish a reputation for being a trusted source more easily by focusing on niche content. Of course, as you gain traction, it might make sense to expand into new topics and areas. So long as you add value and produce high quality content, you stand a good chance of drawing in an ever larger audience.