For many years, affiliate marketing has been an effective way to make money online. For many, it has a lot of allure – all you seem to need is a following and some products to push to start raking in the cash. The reality, of course, is a lot more complicated than that. These days, the affiliate marketing space is incredibly competitive. To survive, you need to have more than a WordPress site and a few pages of content.
Still, if you put the work in, it is possible to build a successful affiliate marketing website despite the competition. With the right skills, knowledge, and a healthy amount of luck, you can earn a comfortable living. One of the most effective ways to learn is through example, so today we're going to cover some of the best affiliate marketing websites around today. First, though, let's talk a bit about what affiliate marketing is and how it works.
Affiliate marketing for dummies
So, what is affiliate marketing, in simple terms? With affiliate marketing, you set up a website to promote products. This could be anything from hotel bookings to video games, books, camping gear, or technology.
Pretty much any hobby you can think of you can earn money from online. Because of this, many people choose to focus on their passions. After all, readers can tell very quickly if you truly care about what you're doing of it you're just trying to make a quick buck.
The products you promote will be delivered to users in the form of affiliate marketing links. When a user visits your website, reads your content, clicks a link, and then buys that product, you'll get a cut.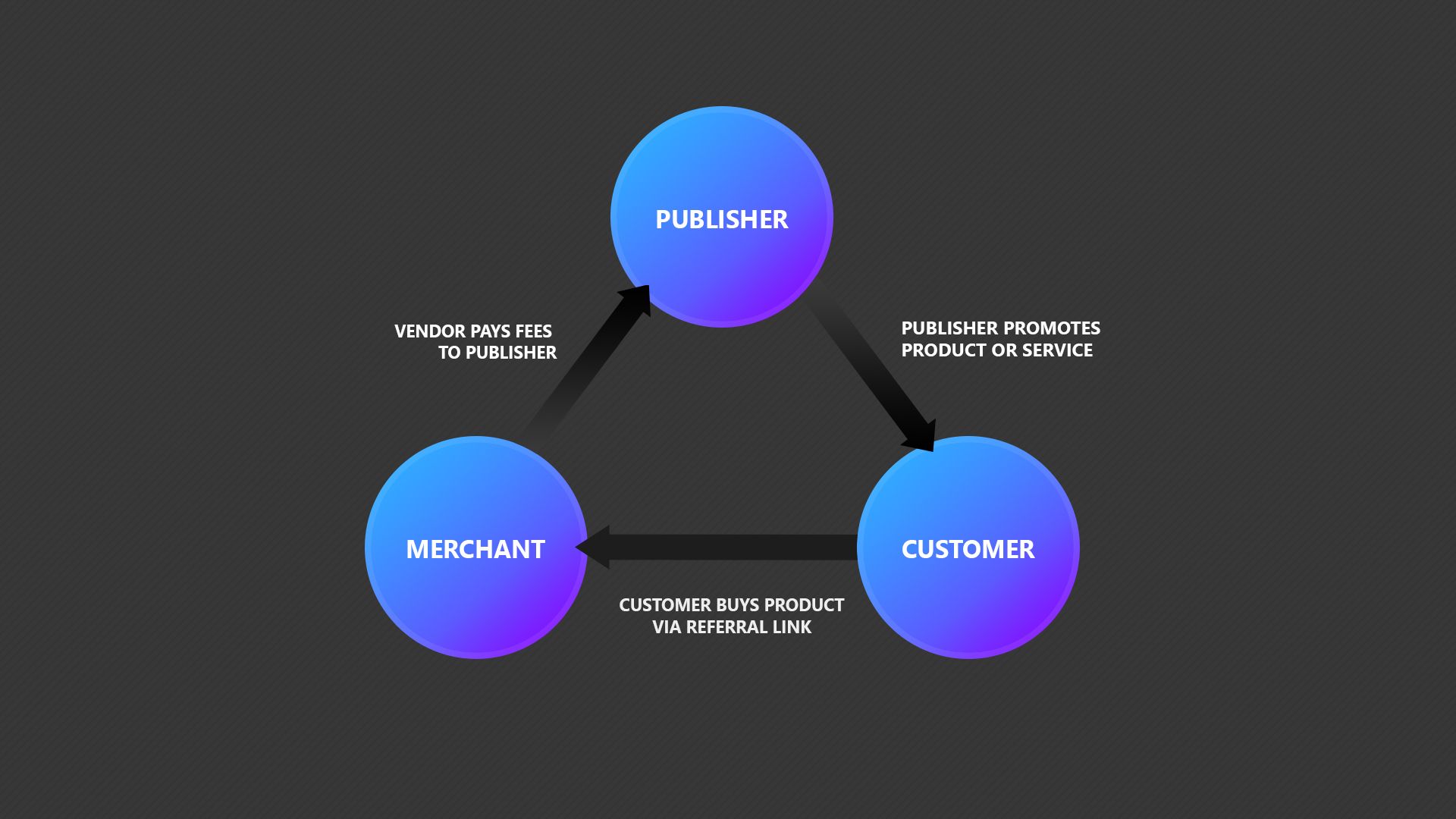 This occurs because you're part of an agreement with that retailer called an affiliate scheme. Some of the biggest companies in the world have affiliate schemes – from Amazon to eBay, Fiverr, Hilton, Expedia, and H&M. While converting a click on your website to cash in your hand may sound like a long process, it's one of the best ways to make money online.
In order to convert those clicks, however, you'll need content. You'll have to produce yourself or purchase blog posts, reviews, and explainer videos. In many cases, you'll also have to buy the products that you're promoting to vet them for quality and list features. To triumph over the competition, you'll have to put a lot of work in and truly dedicate yourself to the practice.
So with all this strife, why should you decide to go the affiliate marketing route over any other online money-making method? Let's have a look at some of the benefits below.
Why you should consider affiliate marketing
Affiliate marketing is one of the best ways to earn money online without having to invest a lot upfront. With affiliate marketing, you're acting as an advertiser and often a publisher. You're producing  content and publicity, but you don't have to buy stock of the products  you're buying.
It's not just about low costs either. Could you imagine earning money while you sleep? In fact, this is part of the  reason many people start affiliate marketing. With an affiliate marketing website, you can earn money around the clock.
With that said, let's take a look at some of the best affiliate marketing websites on the web and use them as a case study. We'll take a look at each, what makes them successful, and what can be learned from their approach.
The best affiliate marketing websites in 2021
Before we start, a disclaimer that "best" is a very subjective term. Today, we aren't here to highlight the sites with the most pageviews, or even those who earn the most from their affiliate links. That would likely lead to a list that isn't particularly valuable. Instead, we're going to look at a variety of popular sites that are either doing traditional affiliate marketing successfully or are thinking outside of the box to hit new markets. Let's start with one many of you will already know.
Wirecutter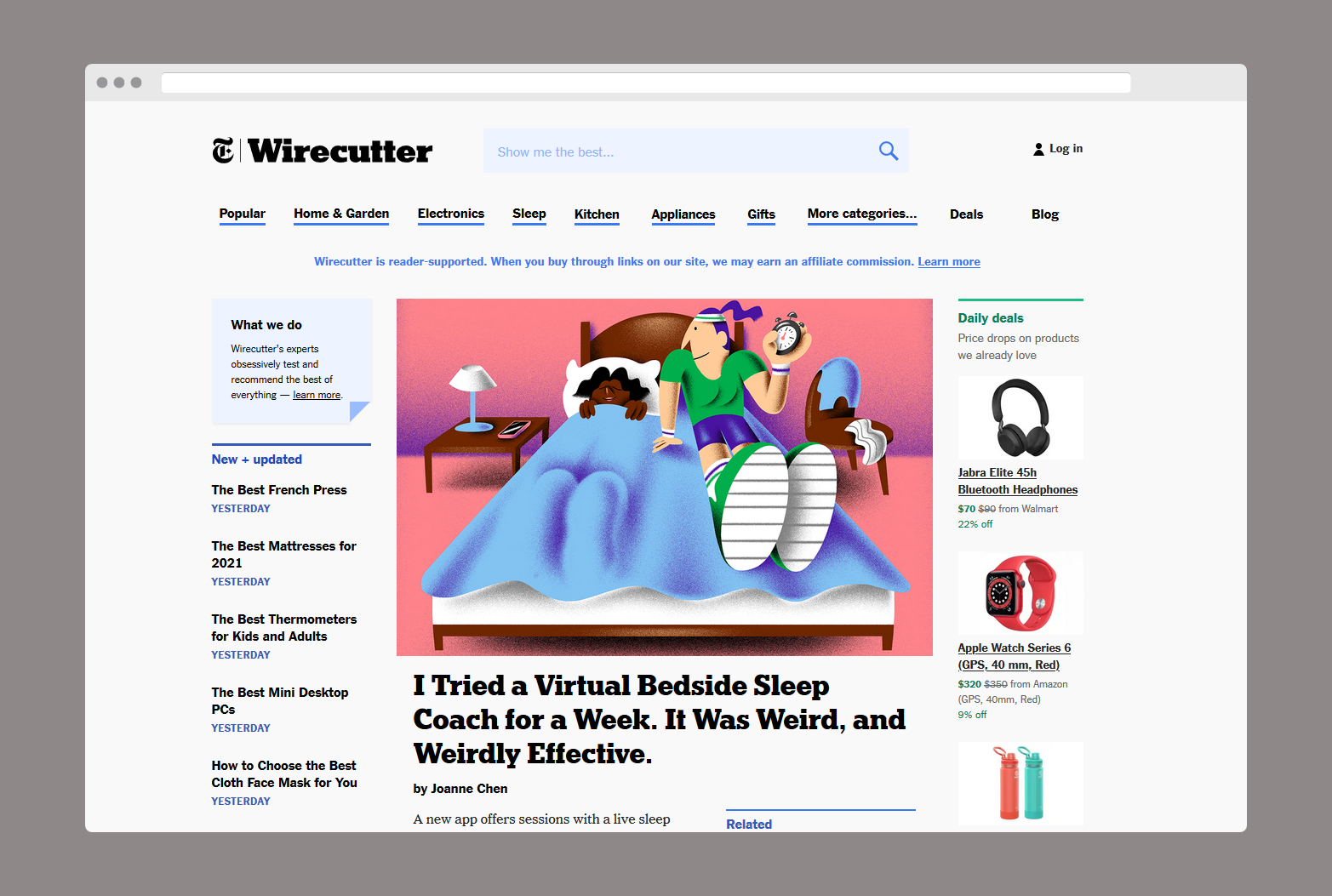 Wirecutter, formerly know as The Wirecutter, is among the most successful affiliate marketing sites to grace the internet. Founded in 2011 by Brian Lam, its focus was initially on electronics, specifically those looking to cut the cord (hence the name). Since then, however, it has evolved to provide content about a range of products across the home, garden, kitchen, sleep, gift, appliances, outdoors, travel, software, and office categories.
Essentially, it has evolved into the mother of all affiliate sites, with over a hundred employees writing how to's, guides, reviews, and "best x" lists.  Getting a bit warm? Check their best air conditioner list. Freezing food? Check their guide on how to do it properly. By 2016, Wirecutter had reached such a level of success that it was purchased by The New York Times for an estimated $30 million. Today, the Wirecutter section of the New York Times site pulls in around 7.5 million visitors per month. It helps to fund the publication's journalism while providing great value to readers.
Why does it work?
Wirecutter's success comes down to two things: its commitment to quality and its strong SEO chops. Unlike many smaller affiliate sites, it tests every product it promotes and does so methodically. At the start of each of its articles, it explains how the products were tested, which metrics they were evaluated on, and how many hours this research and testing took. Through this, it inspires reader trust in a way less scrupulous affiliate sites aren't able to. What can we learn from this? Visible passion and commitment can get you a long way. To affiliate market successfully, you need to convince readers you're doing them a service, rather than the other way around.
The second part of the equation is the search terms Wirecutter ranks for. It currently ranks in the top 1-3 places for nearly 100,000 keywords, while the number of keywords it ranks 4-10 in will soon cross the 400,000 mark. While the incredible authority The New York Times holds certainly helps these days, a lot of work and research must go into which articles are written and, crucially, making sure those are better than the competition.
Nerdwallet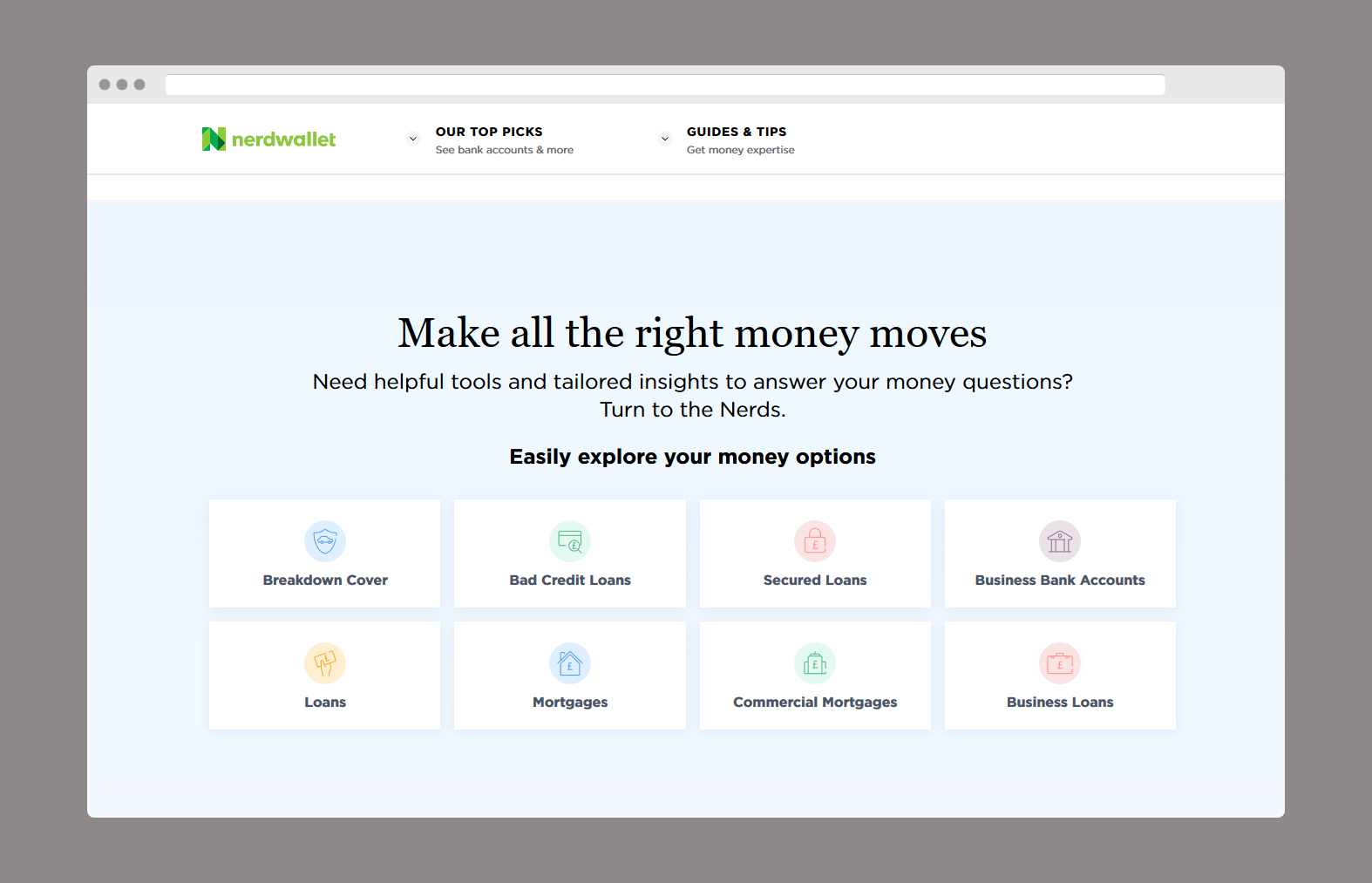 The financial world is full of uncertainty, misinformation, and mistrust. This makes it a strong niche for affiliate marketing, and Nerdwallet managed to get there early. Founded in 2009 by Tim Chen and Jacob Gibson, its website and app aid users in their personal financial decisions. Its articles are largely educational and informative and manage to stay approachable to the average reader despite being written by experts in their fields.
This content, however, is complimentary to Nerdwallet's main avenue to success: its comparison tools. It's this that helped it grow from an initial investment of $800 to one that was valued at $520 million in 2016. Nerdwallet's first comparison tool was between credit card providers. Today, it additionally covers business bank accounts, loans, mortgages, insurance, motoring services, and more. It earns from each purchase made from a click on a comparison table, either in the form of a fee or a cut of the sale. While Nerdwallet has had some controversies and ups and downs over the years, its 12 million monthly page views speaks for itself.
Why does it work?
Nerdwallet has largely stuck to its niche, focusing on creating highly focused, quality content that hits vital keywords in search results. However, it's mainsteam success can be attributed to the easy comparisons it provides, which aren't influenced by a parent company or corporate sponsorships. On the side, it offers clever tools such as compound interest and retirement calculators to further get its name out there.
Its early entry to the market combined with its long-term commitment to transparency has made it a mainstay for financial advice, which has also translated to search results. At the time of writing, it has 300,000 1-4 keywords, including terms such as "mortgage rates", "cryptocurrency", and "mortgage calculator". From it, we can learn the importance of building a reputable brand image and identifying key niches.
PCPartPicker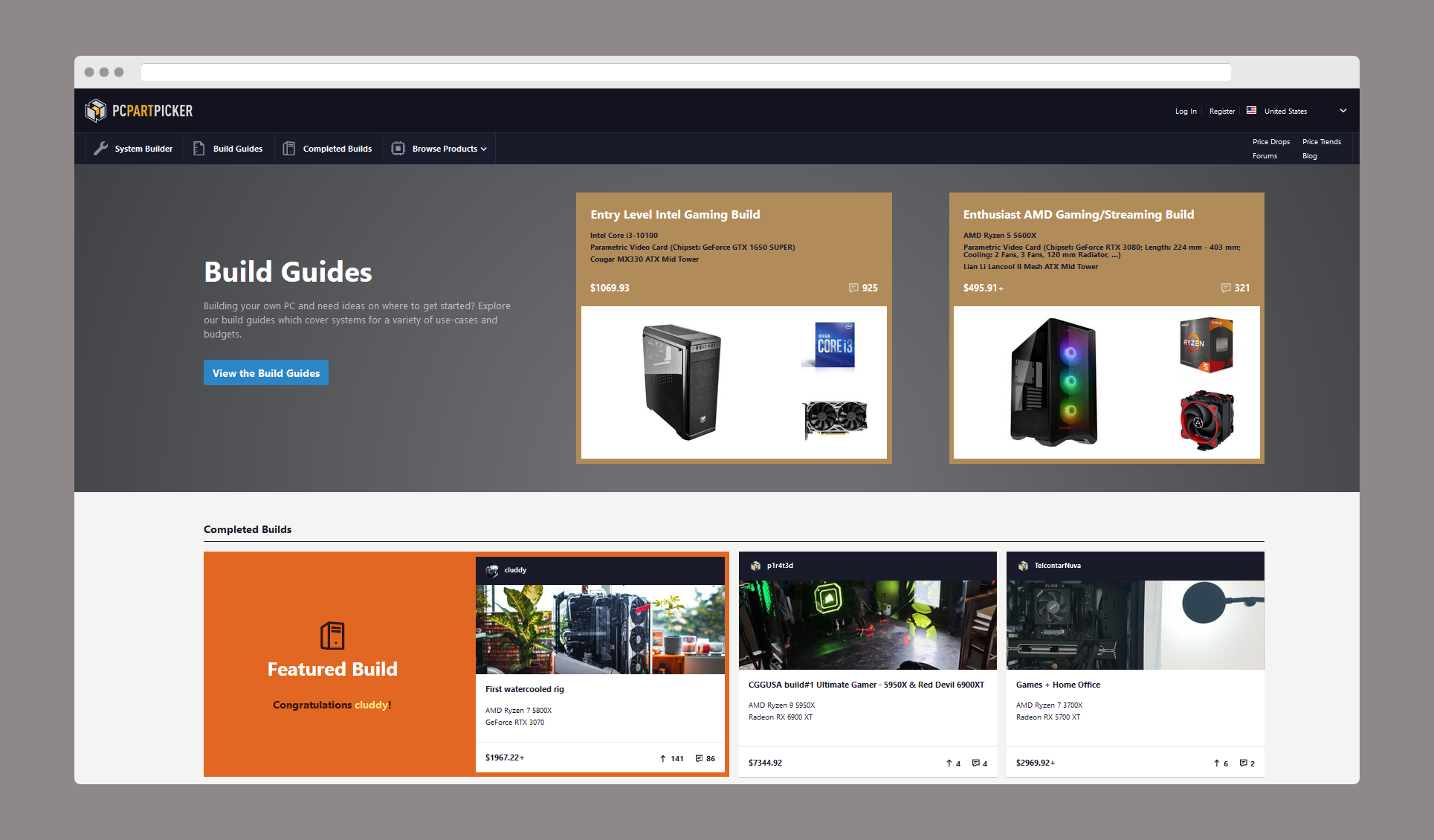 If you've ever built your own PC, then chances are you've heard of PCPartPicker. However, you'll also know that it differentiates significantly from the other sites in this list in that it's entirely tool-focused.
For the uninitiated, PCPartPicker lets users quickly put together a list of components for an upcoming PC build. While that's nothing to write home about in itself, the real value comes in its ability to ensure all of the parts users choose are compatible with each other. As a user selects their parts, the website will filter out results that won't mesh together. Select an AMD CPU? PCPartPicker will automatically provide compatible motherboards when you get to that part of your build. It will also highlight potential problems with your build, such as power output or case size.
So, how does it make money? Largely through tried and tested methods. Each part you add to the list will return a list of prices from various retailers so users can find the cheapest option in their region. Clicking one of these links and making a purchase not only updates the status of your build – it gives PCPartPicker a nice little cut. For those without the confidence to build their own part list, the company's experts provide pre-made, highly optimized, and fully explained ones.
With building custom PCs becoming increasingly popular, PCPartPicker boasts monthly organic traffic of 5.5 million. Thankfully, a portion of its proceeds are also passed on – helping to provide running water to those in need.
Why it works
It's simple really. It's the best tool out there for building a PC. Its incredible value has allowed PCPartPicker to grow largely through word of mouth since its redesign in 2015.
Compared to affiliates sites of similar size, PCPartPicker doesn't it a large number of keywords – around 30,000 1-4. The beauty of the tool is that it markets itself. By making lists easily shareable on various platforms, it ensures it will be the site of choice for those helping family, friends, or random internet users build a PC. It also supports a surprising range of countries – 37 – which allows it to proivde region pricing and availability to a wide range of users.
Crucially, it never tries to push advertisements or other revenue streams in your face while doing so. Most of the time, you forget that its owners are even making money. It serves as a good reminder that your first prority as an affiliate site should be providing value to your users – do so effectively, and the rest will come.
RTINGS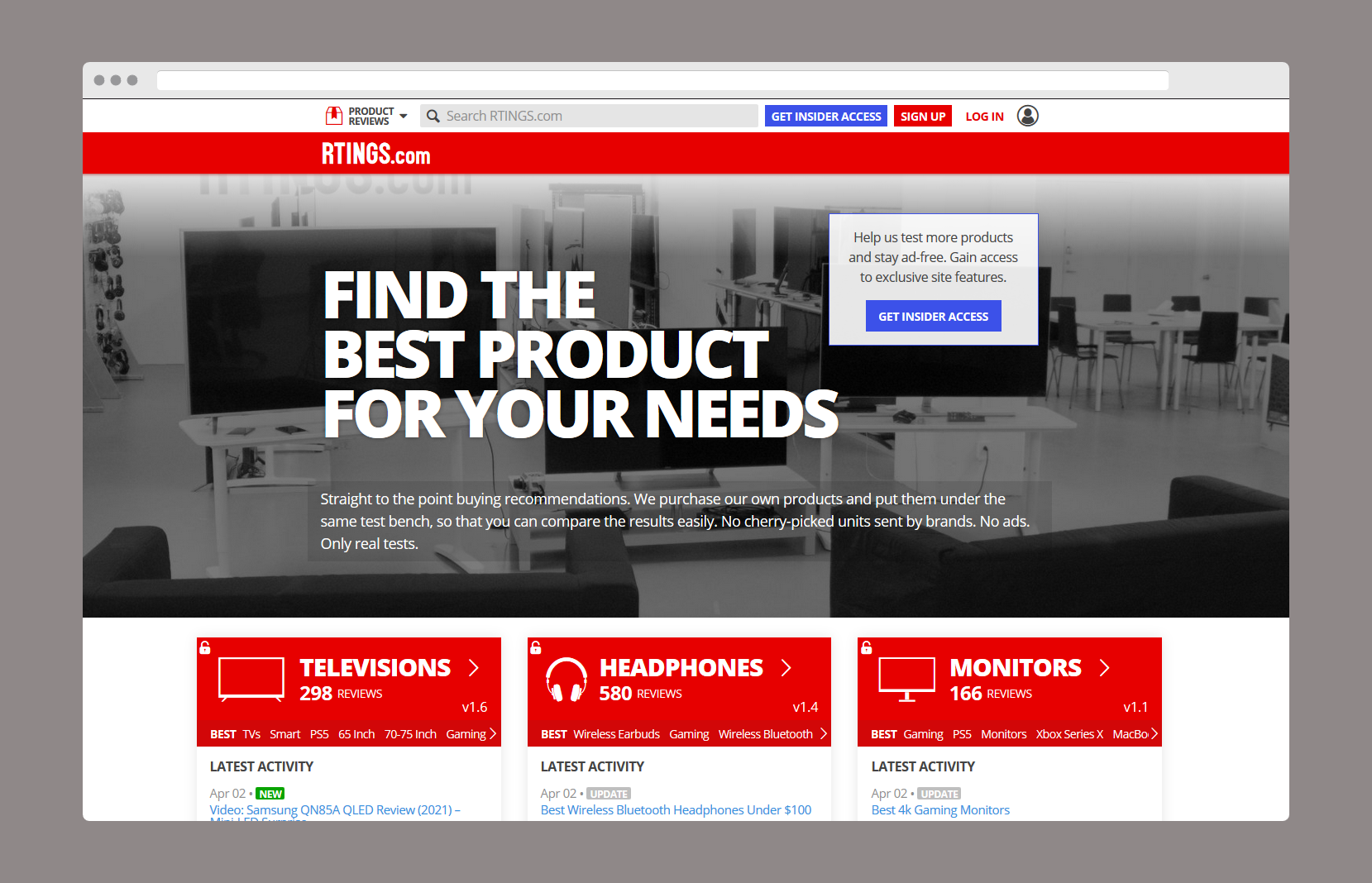 The affiliate review site has been done to death, but RTINGS manages to differentiate itself from the competition. Its focus is not on long-form text but in-depth statistical and rating analyses.
Each product RTINGS reviews is tested extensively and largely objectively. Each important review category is given a rating out of ten and usually comes with statistics to back that up. It's particularly well-known for its headphone reviews, which provide graphs for sound profile; frequency response consistency; bass, treble, and mid accuracy; imaging; soundstage; noise isolation; and more.
RTINGS provides Amazon affiliate links so that the user can "see the price" of the product reviewed. The hope, of course, is that they'll go on to make a purchase, giving the website a cut.
For the buyer who isn't sure what they want, RTINGS also has a series of "Best" lists for its review categories, which include headphones, TVs, monitors, soundbars, mice, keyboards, printers, vacuums, blenders, speakers, and cameras. This helps it to hit search results while summarising the results of its extensive testing and providing more verbose content.
Why it works
RTINGS is proof that you can still make it in a saturated affiliate market if you differentiate yourself enough. It has become an authoritative voice in headphone and TV reviews, due to its extensive testing and intuitive interface, which is unmatched in many of its categories.
Also contributing to its success is its lack of advertisements and community interactivity. RTINGS reviewers are very active in the discussions below each article, providing advice, recommendation, and even additional testing for user-reported product issues. The community spirit is further increased by the ability for users to vote for the products that will be reviewed next.
Skyscanner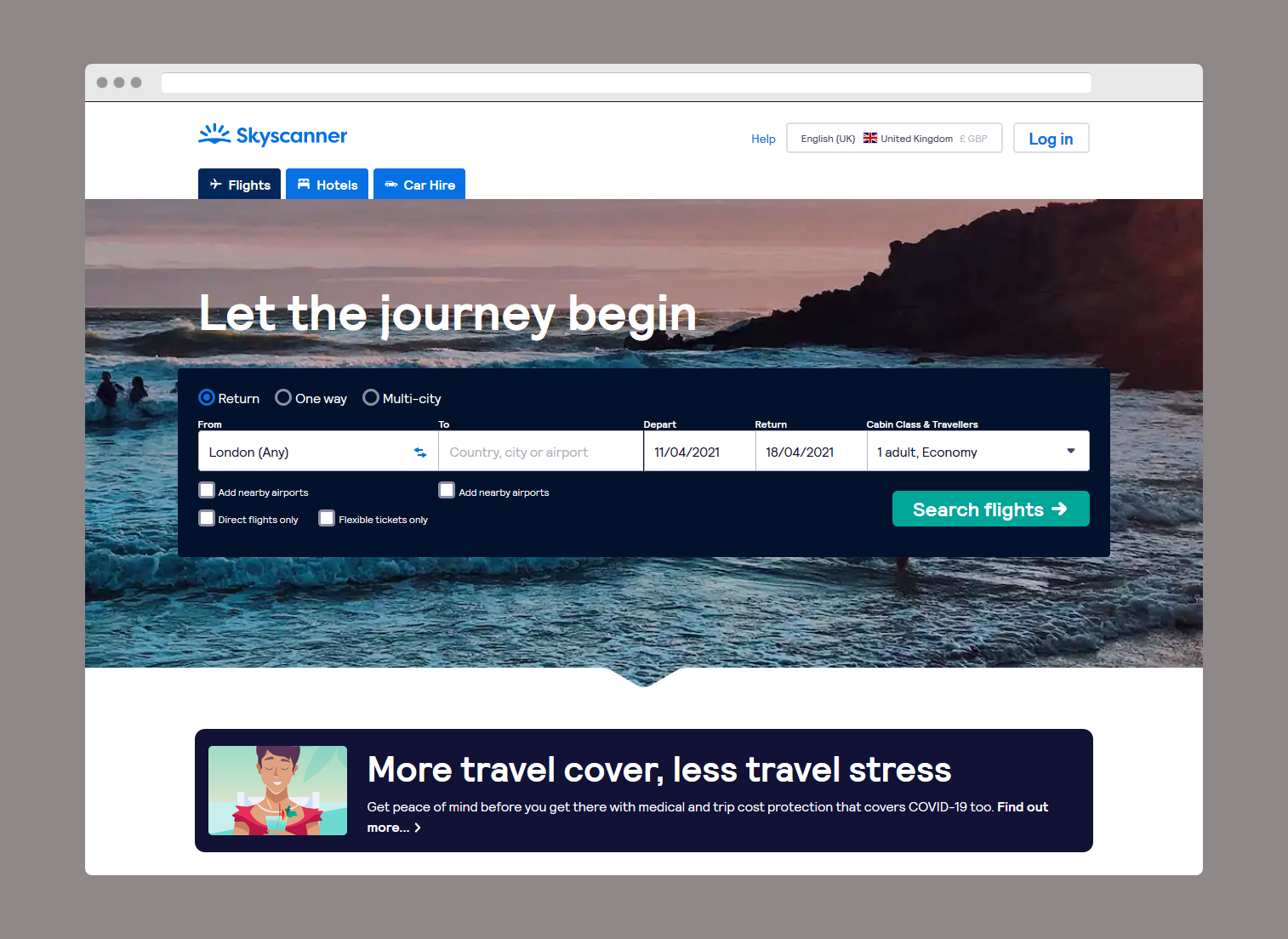 Skyscanner is a Scotland-based affiliate site that became so popular that in 2016 it was purchased for $1.74 billion – making it the largest acquisition in travel technology in Europe. Like PCPartPicker, it takes a tool-focused approach, this time focusing on providing users with the best flight prices.
Skyscanner collates pricing information from hundreds of airlines worldwide and allows users to input their date or month of travel, return, and airports to find the best deals. Though this is nothing particularly clever in itself, Skyscanner's money-saving features are added on top to make it a strong offering. It will, for example, look for alternate routes to your destination via layovers in different airports or countries.
This can often work out cheaper, with users additionally able to set a maximum travel time, get price alerts, and view prices across an entire month or year to work out the cheapest times to travel. Of course, when you buy a ticket via SkyScanner, it gets a commission – either via an affiliate link or partneships with the provider. For many popular airlines, you can check out without even leaving the SkyScanner site. It additionally shows the best flight deals on its homepage.
Over the years, Skyscanner has gradually expanded these affiliate schemes to include hotels, and rental cars. Though there are various sites out there that offer car rental and hotel comparison, it's able to offer its users discounts for additional value and automatically search based on their searched flight details.
Why does it work?
Skyscanner's numbers have dropped significantly due to the pandemic, but it typically gains 4–5 million search traffic per month. As with other tools, it gains a lot of free marketing via word of mouth, but it also ranks well for terms like "cheap international flights".
Travel is a tried and tested industry for affiliate marketing, and Skyscanner tapped into what many travelers are most worried about – their wallet. Its creators identified a problem that needed to be solved and provided a solution, rather than finding what they wanted to sell and working backward.
This commitment to a quality experience has also ensured that Skyscanner has an extremely apporoachable user interface that can appeal to a wide market. Often, looking for problems you can solve is the best way to ensure a successful affiliate site.
Take away: Focus on high-quality content and start by going niche

The World Wide Web is a crowded place. Three of the five best affiliate marketing websites we went over are niche sites, focusing on PC building, finance, and travel. Even Wirecutter, which is now pretty broad, first built momentum by focusing on electronics.
When you go niche, it's easier to build up quality content and thus stand out in the market. You'll establish a reputation for being a trusted source more easily by focusing on niche content. Of course, as you gain traction, it might make sense to expand into new topics and areas. So long as you add value and produce high-quality content, you stand a good chance of drawing in an ever-larger audience.
Looking for an affiliate program to promote? Why not try BitLaunch's, where you'll earn at least 20% from every sale.